This painting above was done in the beautiful city of Passau. It is one of Germany's oldest cities and is actually a peninsula surrounded by three rivers. While I was working on the piece above over the course of a long afternoon, a young woman who works with her mother in the family restaurant just down the street from where ai was painting brought me a free drink. Later she took me inside the ancient building that housed their restaurant and showed me around the very cozy space filled with the work of local artists. I was very touched by her hospitality to a complete to me, a complete stranger. I experience these frequent kind gestures almost every time I venture out to make art in the city. These generous people are helping me to feel welcomed in a strange place, a very long way from home.
The above painting was painted in Landshut which, like Passau, is a city from the Middle Ages. There are still portions of the old city wall standing that once surrounded and protected the city. There are buildings in this city still in use that were already over 100 years old when Columbus was putting together the finances for his voyage to discover a shorter trade route to India. I love to walk through its narrow cobble stone streets looking for places to draw. This painting includes a portion of the castle built on the highest possible spot above the city. It is stunning how this castle stands high above Landshut like a faithful sentinel keeping watch. A young reporter working for the local paper spotted me on the street while I was working on this painting. She did an interview there on the spot while we waited for the photographer to come with his camera.
In the very center of Landshut stands the beautiful old St Martins Church. It is said that this is the tallest brick tower in the whole world. I have starred at this tower now for hours doing drawings and painting. What fascinates me about this particular tower is not necessarily how tall it is, but in time how it has become something like a great giant tree trunk to me. It has so many variations of windows, ledges, and different sections that it seems to me that this mighty tower was not so much built but rather that it grew there. My painting of St Martin's church measures one meter by two meters and just barely fits in my studio clearing the ceiling by just a couple centimeters.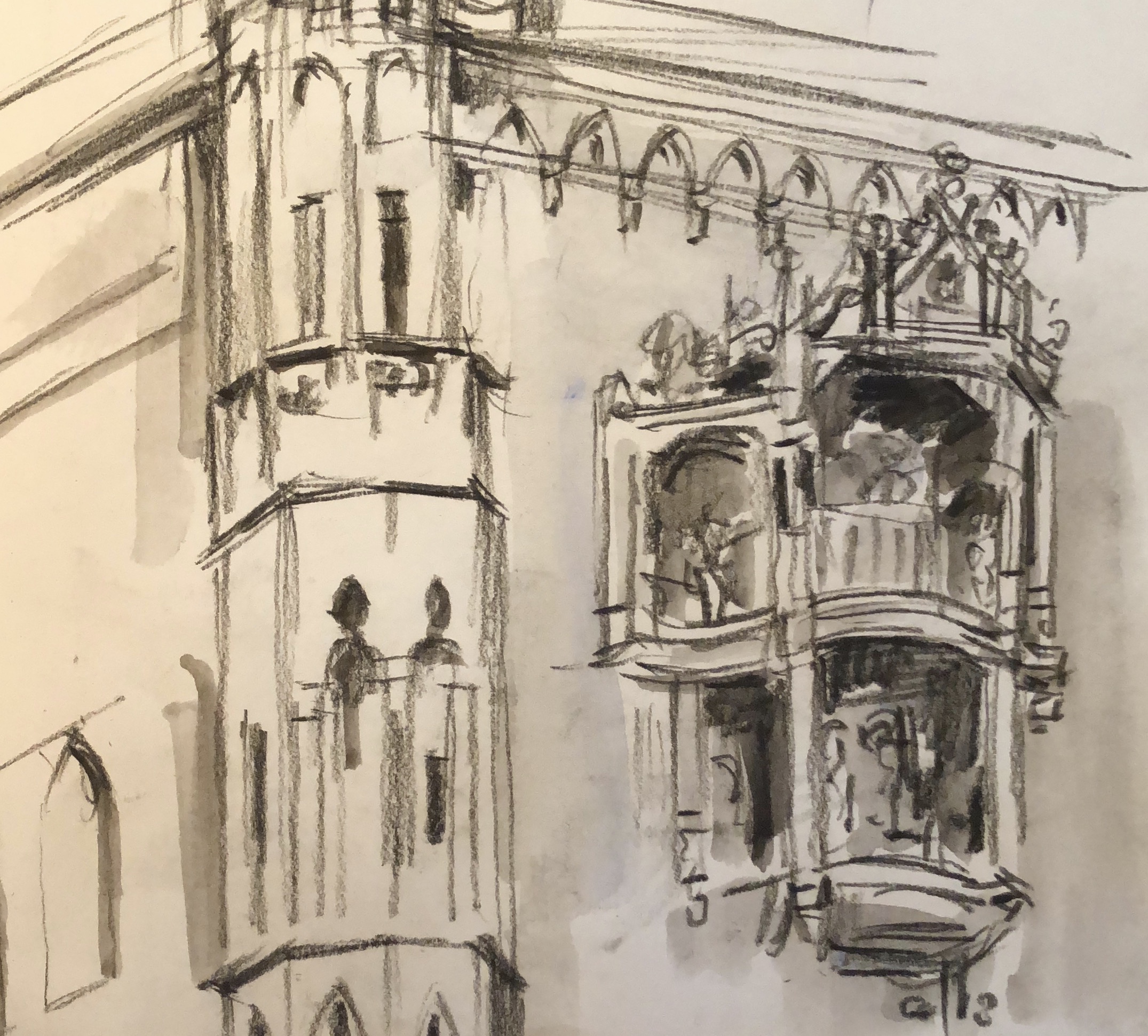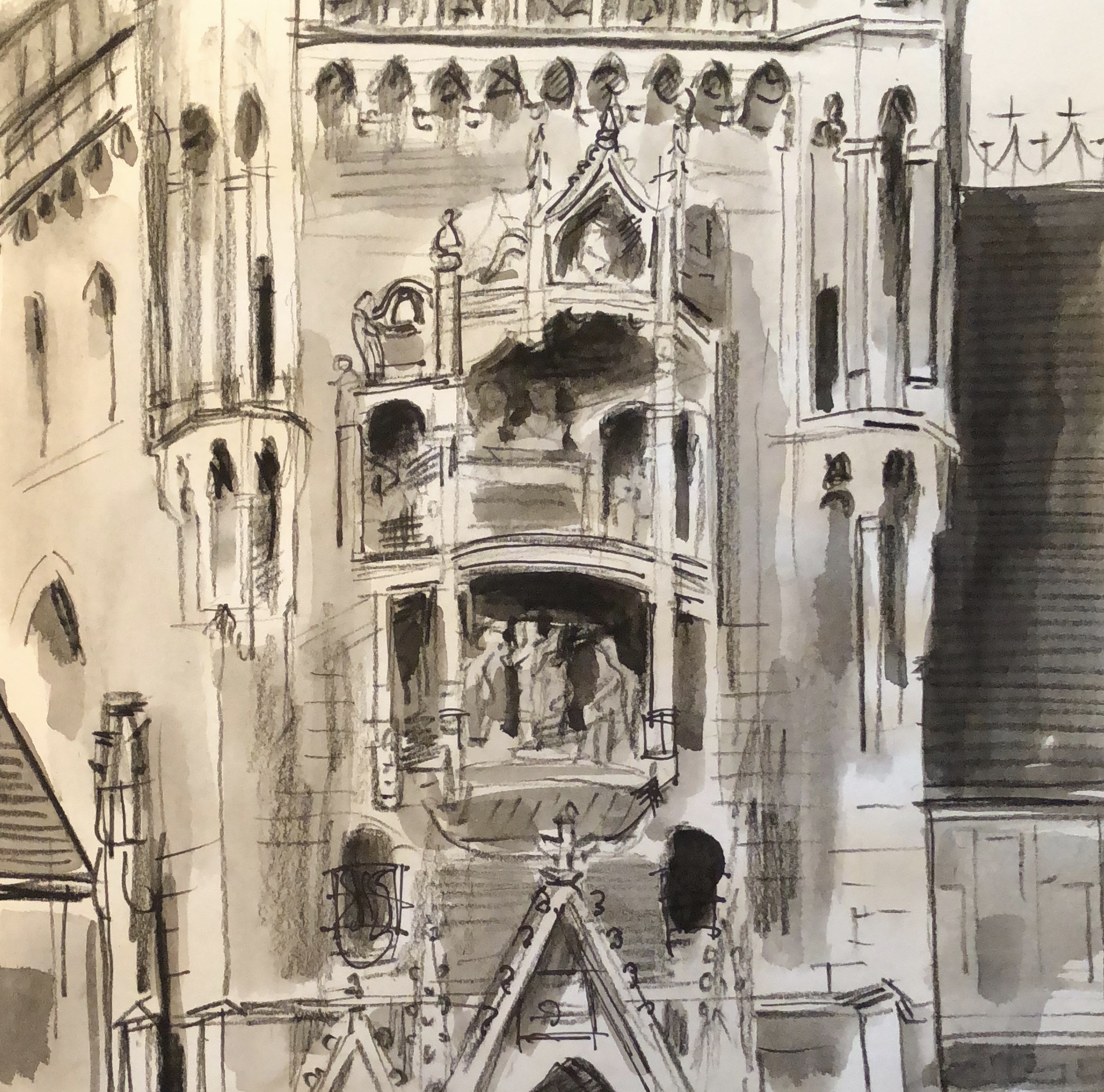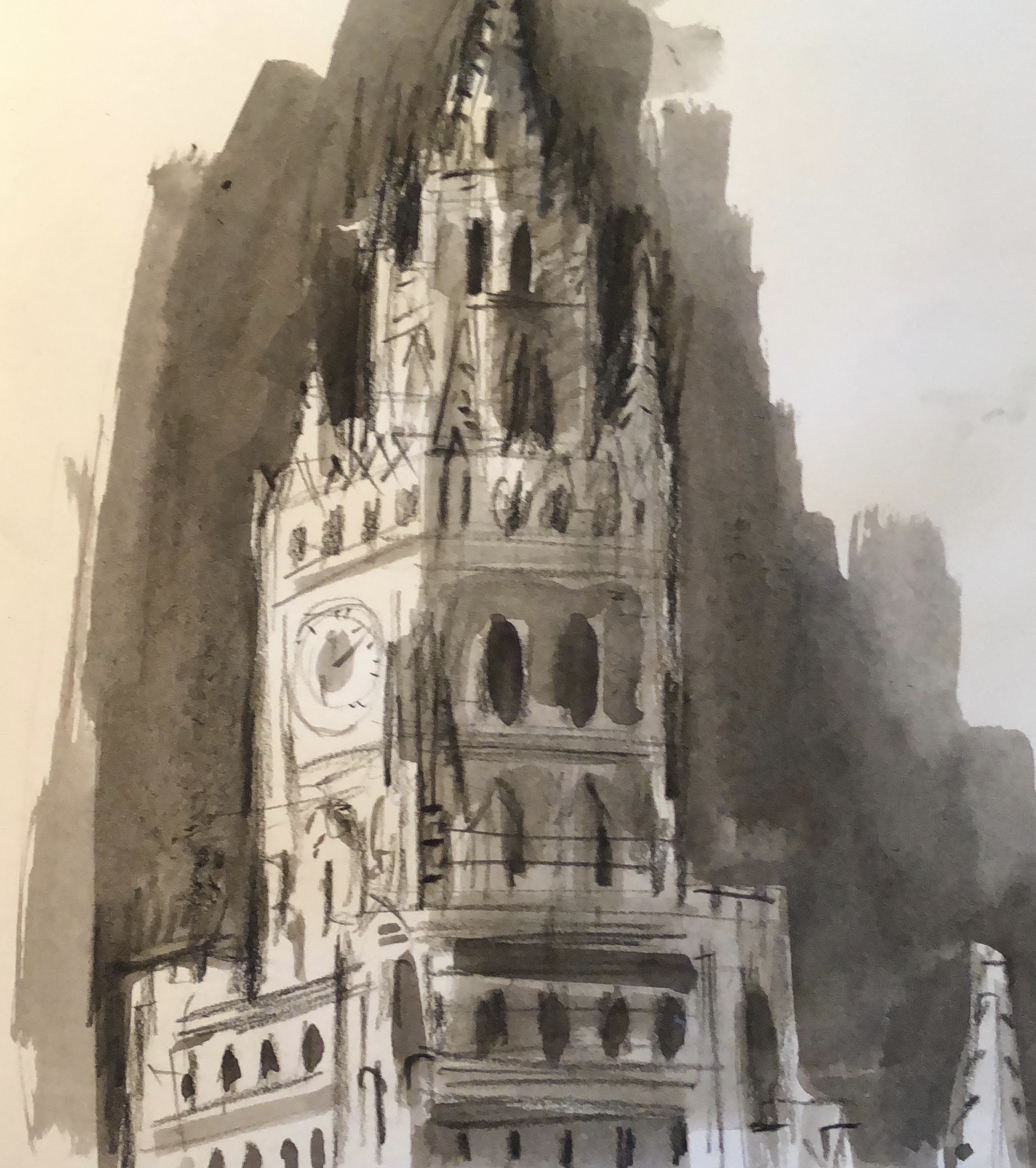 I spent three days exploring Munich. Each day I would begin in Merianplatz which is the city center and is always filled with people. I found my favorite spot to draw which was sitting on a low knee wall that surrounds the entrance to the U2 subway station. Interestingly this very spot seemed to be a magnet for Americans because while I would be drawing more often then not, at some point, I would here my mother tongue being spoken. Sometimes I would start up a conversation hungry for a little o'l USA fellowship. Other times I would just listen in like once, when a stocky middle aged guy in cargo shorts was explaining how much better the building I was drawing (the Neues Rathaus) would look after a good power washing.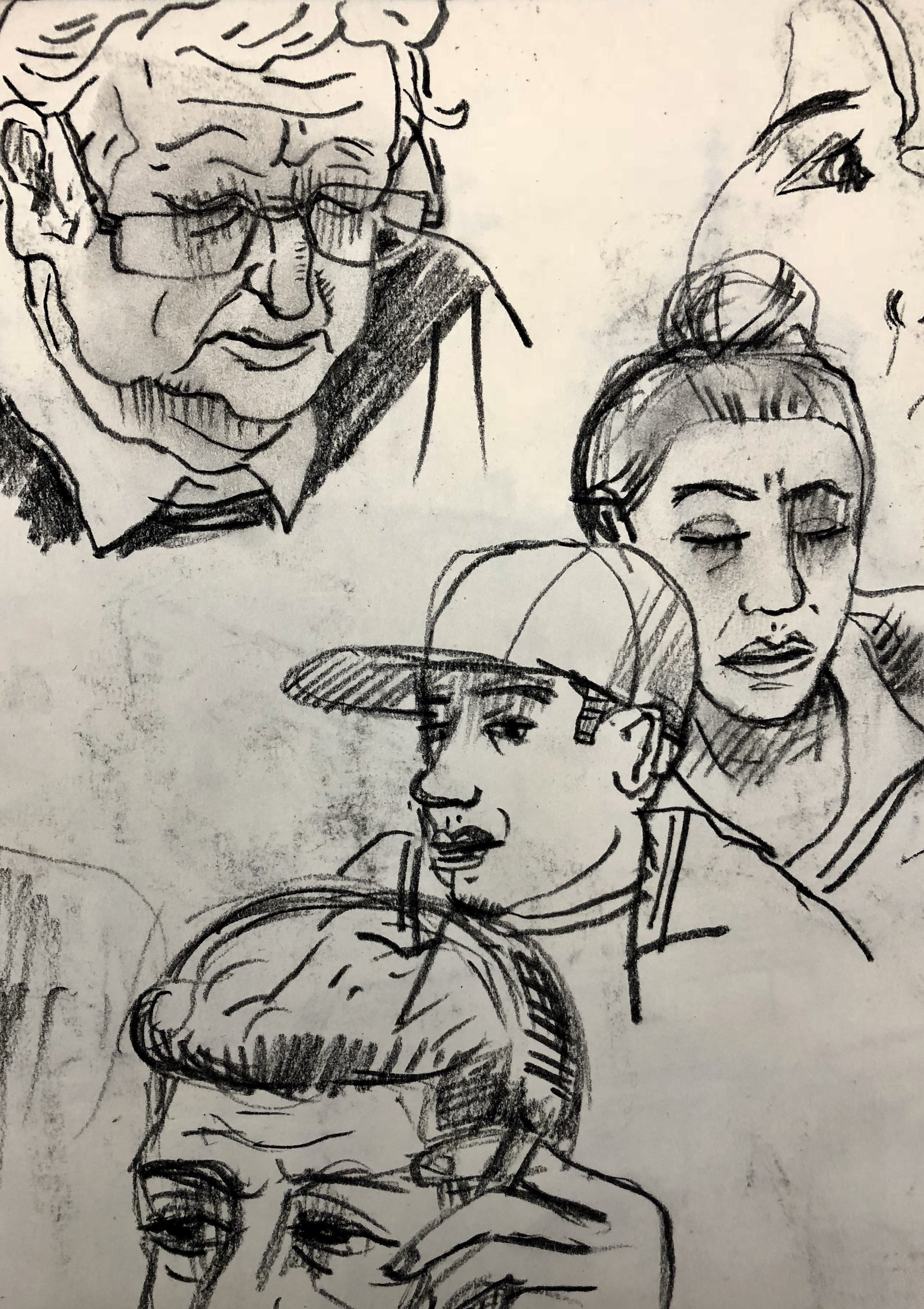 I have several paintings in process as well as a large sketchbook that will come back to the America with me. I'm thinking that I would like to continue working with this material I've recorded in my sketch book when I'm home. Eventually I would love to do an exhibition with this work perhaps in Germany. And while I'm saying what I want, I would also like to find a way to return to Germany and continue this project further.